A Union for Pharmacy Professionals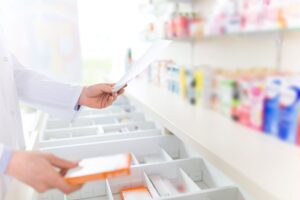 Whether you work in a hospital or retail pharmacy, you've undoubtedly experienced significant challenges at work over the last few years. Corporations like CVS raked in profits during the COVID-19 pandemic, yet we have seen an underinvestment in Pharmacy staff.
This is not only the case in retail, but also in acute care settings where Pharmacists struggle to defend their scope of practice and enforce professional standards. Too often Pharmacy staff are blamed for systemic problems rooted in corporate greed and cost-costing practices.
Most Pharmacists and Pharmacy Techs have experienced short-staffing, unreasonable scheduling, uncompetitive pay, and/or risks to their personal health and safety. These and other concerns drove thousands of Pharmacy staff to participate in an unprecedented national walk-out in 2021.
Now Pharmacists, Pharmacy Techs, and other Pharmacy staff are taking the next step to organize a union with IAM Healthcare. A strong union contract can help make the changes that are needed in Pharmacy, not only in terms of wages and benefits, but also workload and safety standards such as minimum staffing ratios.
If you work in a Pharmacy and you want to learn more about organizing a union in your workplace, use the confidential contact form below to get in touch with a member of our IAM Healthcare team.